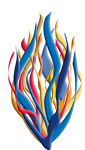 My house shall be called a house of prayer for all people. - Isaiah 56:7
Congregation House of Israel
Life and Legacy Program
Mission Statement
Congregation House of Israel (CHI), in existence since 1875, is affiliated with the Union for Reform Judaism.
CHI serves as a gathering place for Jews who hail from all around the country. We gather to grow as Jews and to connect with one another and our traditions. We support each other through times of celebration and sorrow. We learn together and we carry our traditions with pride and gladness, and share them with our neighbors, friends and wider community.
CHI protects the Jewish heritage of southern Arkansas by serving as a collection point for torahs, torah covers, yartzeit plaques, and memorials from congregations which unfortunately have closed.  CHI also helps by maintaining those congregations' cemeteries.
Our legacy donors are individuals, just like you, who want to insure that CHI continues to be not only a place of worship, but also a place for spiritual growth, educational enrichment, and community outreach, as well as a place of kindness, warmth and compassion for future generations.  By establishing a legacy, you will have planted the seed so future generations – L'Dor V'Dor – can benefit from all CHI has to offer.  Your generosity will ensure that CHI remains as integral a part of the lives of future generations as it has been for you.  In other words, your gift will make a difference in the lives of others for many years to come. Please join us!
For your convenience and more detailed information, a Life and Legacy brochure is available for download.
If you wish to participate, a Life and Legacy Letter of Intent is also available for download.
Top