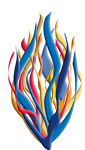 My house shall be called a house of prayer for all people. - Isaiah 56:7
Congregation House of Israel
About Us
Congregation House of Israel was founded in 1875 by twenty families, and (according to some records) the first Jewish settler arrived from Cracow, Galicia in 1876. At one time there were two kosher hotels as well as two synagogues; our congregation as well as Beth Jacobs, an orthodox synagogue a block down the street. For further information about Jewish history in Hot Springs, view our History page.
We are a Reform congregation affiliated with the Union of Reform Judaism. However, since we are currently the only synagogue in Hot Springs, our members come from a rich melding of backgrounds; Orthodox, Conservative, Reform, unaffiliated, as well as from an array of diverse religious traditions. Our membership currently consists of approximately 65 families.
We gather as a community of Jews who hail from all around the country. Some are individuals with long roots in this city or in the state of Arkansas, while many others have newly relocated to our community. We gather to grow as Jews and to connect with one another and our traditions. We support each other through times of celebration and sorrow. We learn together and we carry our traditions with pride and gladness, and share them with our neighbors, friends and wider community.
Our Rabbi is the only trained Jewish professional on our staff. In addition to his work with our congregation, he also serves as Spiritual Care Staff person in Levi Hospitals Psychiatric and Hospice Wards.
Members have stepped up and serve in many positions of leadership, on our board, directing our religious school, and guiding our youth.
We invite you to make Congregation House of Israel your spiritual home as you become a part of the Hot Springs community. By becoming a member of our congregation, you join us in supporting the Jewish presence in Hot Springs, and enable us to continue to develop a rich Southern Jewish community. We hope you will join us in creating a meaningful and rich Jewish life, and entering into a relationship and conversation with our tradition.
Every woman in the congregation is invited join our Sisterhood, which among a myriad of other things:
Oversees our holiday celebrations
Organizes dinners and receptions
Shapes and leads a Sisterhood Service each spring
Monthly serves lunches at Jackson House, our local organization that reaches out to community individuals who are in need of food
Fundraises through serving at the convention center
Contributes to Camp Jacob scholarships
Contributes to other worthy agencies who work to aid those in need
Our Religious School is for children ages 5 through high school. We particpate in the new and innovative curriculum designed by the Institute for Southern Jewish Life in Jackson, Mississippi. Each Sunday morning we begin our day with a minyan, and then move into Hebrew classes and Religious Studies. We end with a snack and Birchat Hamazon (blessing over our food).
There are Family Services throughout the year where our children are involved with leading parts of prayer.
Thanks to the hard work and warm heart of our Religious School Administrator and teachers, we've been blessed with a warm family feeling amongst our children and parents. We have options for Bar/Bat Mitzvah and confirmation, and our post bar/bat mitzvah youth are invited to tutor and assist in our classrooms.
On those weeks when the rabbi is present, we gather to study Torah on Saturday morning from 9:30 - 10:30 a.m. Torah study is preceded by a brief Shabbat morning service. No knowledge of Hebrew is needed to enjoy and venture into this delightful terrain of our people.
---
Should you wish to participate more fully in the workings of our synagogue, we're also established a Ritual Committee that meets periodically with our Rabbi to plan our year and programs. We have other members who oversee the maintenance of our two cemeteries, and oversee the well being of our grounds.
Top